KITS – The Total Use of Force Training System
---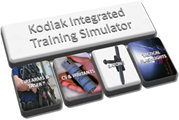 The Kodiak Integrated Training Simulator builds on the latest HD Video and Interactive Technology from USA – world leaders in the field of Law Enforcement Simulation Systems. KITS is built in Luxembourg, is EU Approved & Certified and has been further enhanced to fulfill the Operational Training Requirements of European Police Forces and Law Enforcement Agencies.
Use KITS for all your Defensive Training: Being a "total use of force" system, KITS provides training for Firearms, Taser®, CS , Batons and Tactical Flashlight. It can also be used for training in the de-escalation of force and for Public Order related incidents.
Latest in HD Video and Interactive Technology: Using the latest in HD Video, KITS has over 200, on-board and ready to use, scenarios and with advanced branching, each scenario can be routed, in real time, by the instructor to ensure relevant operational challenges for trainees. Comprehensive de-briefing allows the re-run of each students' performance with on-screen data showing timings, shot placement and other important performance factors.
On Board Scenarios and Add your Own: With KITS, Police Forces can make and install their own operational scenarios. With the high- tech on-board rendering, "shooting zones" are quickly and easily applied automatically to each frame - the videos are ready for training use within just a few minutes.
Familiar Windows® Operating Systems: KITS uses the MS Windows® operating system. It has been designed for use by instructors who may have basic or limited computer skills. The familiar Windows® desktop makes using the KITS System as easy as using a home PC.
Not just a Judgmental Simulator: KITS should not be confused with many of the judgmental simulators in use by some Police Forces at the present time – it is more than a "shoot – don't shoot" simulator – it is a total use of force system that can extend your training capabilities to cover most defensive equipment and its operational use.






Technical Configuration
---
• KITS PRO
The KITS Range Pro training system offers the most advanced feature set available for interactive...
>Learn more
---
• KITS BASIC
The KTS Basic is a low cost interactive training simulator that uses the same technology...
>Learn more
---
• KITS EDUCATIONAL PROGRAM
The KITS Educational Program training system is a full-featured classroom presentation and testing tool.
>Learn more